Haix Technologies
One of the things that sets HAIX® apart is its use of a wide range of technologies in its functional footwear. Any specifications that are crucial to your job, HAIX® has you covered, whether it be GORE-TEX® protection, a safety toe cap or metal-free. Learn more about each technology below.


HAIX® SL (Secura Liner®)
Our liner never pulls out or wrinkles with use over time. This trademarked system isn't duplicated anywhere in the world - our liner is firmly secured and sealed along with the upper leather beneath the sole.
HAIX® Protective Sole
Our sole provides puncture protection from sharp objects.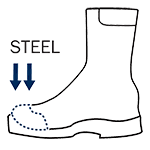 HAIX® Protective Steel Toe Cap
Extra wide and high, our protective steel toe cap is secure and comfortable as well.
HAIX® Composite Toe Cap
Anatomically formed, our ultralight protective toe cap is made of fiber-reinforced plastic for the highest safety requirements.
HAIX® Protective Toe Cap with Rubber Cap
Our protective toe cap with rubber cap provides additional protection against abrasion.
HAIX® HD (High Durability) Cap System
Specially developed profiled rubber toe cap for long lasting durability.
HAIX® MSL (Micro Soft Light) System
Provides increased impact absorption and insulation. Watch this
video
to learn more.
HAIX® AS (Arch Support) System
Our arch support system supports the natural curvature of the foot. Toes and joints have thereby sufficiently more space. Keeps foot in the best position for optimal foot health.
HAIX® Absorption
Absorption with cushioning wedge built into the sole.
HAIX® AF (Ankle Flex) System
Our ankle flex system stabilizes the foot with a flexible insert in the shaft/instep area that fits like a lace-up boot.
HAIX® Climate System
Our climate system uses a pumping movement, which permits air circulation with every step – moist air is released and fresh air comes in through the vent holes at the top of the boot.
HAIX® WI (Water Ice) Grip System
Extremely slip resistant profiled rubber sole. Optimal performance in water, ice, and snow. Fullfills the highest demands of the European Standards EN 15090 + SRC as well as the U.S. Standards NFPA 1971 + 1951 + 1977.
HAIX® Ankle Protector System
Safety zones to prevent injury to the ankle.
HAIX® Metatarsal Protector System
Safety protection to prevent injury to the metatarsal.
HAIX® ES (Easy Slip) Out System
Special heel edge for easier doffing of the fire fighting boot.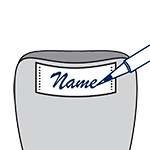 HAIX® ID (Identification) System
Nameplate for convenient identification of boots.
HAIX® FP (Flex Protection) System
Leather reinforcement over the heel rounding that protects the soft, flexible inset in the bending area from chafing.
HAIX® FL (Fast Lacing) Fit System
Patented two zone lacing system for quick and optimal lacing adjustment and correct fit of the boot.
HAIX® Lacing System
Offers optimal adjustment to the foot. Easy entry and exit of a zipper boot with the personal fit of a lace up boot.
HAIX® Smart Lacing System
Smooth and non-pressure adjustment of the boot to the foot, quick lock and lace pocket.
HAIX® 2-Zone Lacing
Enables separate adjustment of the boot to the foot and leg area.
HAIX® Anti Slip
Extremely slip resistant outsole with innovative design.
Sun Reflect
Sun Reflect reduces the heating effect of the upper leather by direct sunlight. Sunlight is reflected by the leather, keeping the leather and the feet cooler. Watch this
video
to learn more.
CROSSTECH®
Provides liquid penetration resistance against blood and body fluids in combination with waterproofness and breathability. Increased chemical protection.
GORE-TEX®
Optimal climate comfort for all seasons, waterproof and breathable.
Classified UL
This mark certifies that products have been tested and certified by Underwriters Laboratories to meet the applicable standards in the U.S. and Canada.
Classified UL Canada
This mark certifies that products have been tested and certified by Underwriters Laboratories to meet the Canadian Standard, CAN/CSA Z 195, for toe cap protection Grade 1 and sole puncture protection Grade 1.
Electric Hazard Resistance
High-voltage resistance (18 KV) in accordance with ASTM F 2413-2011 and CAN/CSA Z 195-2014.
Vibram®
Vibram® is the world leader in high performance rubber soles, targeted to the outdoor, work, recreation, fashion, repair and orthopedic markets.
Metal Free
The metal-free feature makes HAIX® boots airport friendly so they can be worn when working or walking around metal detectors or other electromagnetic machinery like surveillance equipment.