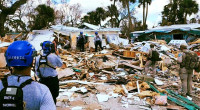 As Hurricane Ian was approaching Florida's west coast, Ohio-Task Force 1 was ready and waiting.

Considered the deadliest hurricane to hit Florida since 1935, Hurricane Ian made landfall on September 28, 2022. Search and Rescue teams from around the country were deployed to the area, and OH-TF1 was among the first to arrive.

Specialized missions, like technical rescue, call for specialized gear. HAIX® is here to get you deployment ready with footwear you can count on to keep you safe, protected, and comfortable during the most extreme conditions.