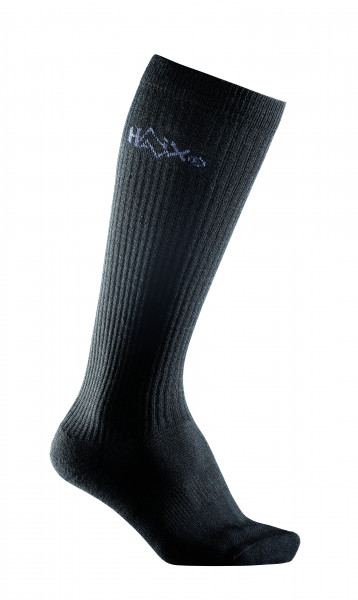 A good pair of high tech socks is the first line of defense for dry, comfortable and, most...
more
Product information "HAIX Knee Socks"
| | |
| --- | --- |
| Color | Black |
| Product type | Accessories |
A good pair of high tech socks is the first line of defense for dry, comfortable and, most importantly, blister-free feet. High tech, breathable socks can be a big improvement over cotton socks.
Wool blend socks keep feet cooler and more comfortable than cotton. Cotton socks absorb sweat and dry slowly, a perfect recipe for blisters. Wearing wet cotton socks can also make your feet colder in winter and hotter in summer. HAIX® virgin wool blend socks are temperature regulating, (cooler in summer, warmer in winter) wicks moisture, and adds cushioning to keep your feet comfortable and blister-free. A wool blend sock is recommended to be used with all HAIX® footwear.
Optimal air circulation is achieved by using natural fibers made of virgin wool and man-made fibers. Reinforced metatarsus area provides protection against blistering and pressure points. Rubber-free cuff edge prevents tightening or slipping. Our knee high boot socks have added cushioning in the heel and ball area of the sock adds extra protection and comfort.
HAIX women's and men's knee high socks are available in over-the-calf height, sizes: S 37 - 39 / M 40 - 42 / L 43 - 45 / XL 46 - 48.
Material composition: 33% polypropylene, 33% polyamide, 32% virgin wool, 2% elastane.
Related links to "HAIX Knee Socks"
Read, write and discuss reviews...
more
Write a review
Customer reviews for "HAIX Knee Socks"
From:
Chris
On:
25 Apr 2022
Nice Socks
These socks stay up without really need to keep pulling back up. Mild compression as to not cut circulation off.
I don't think it matters what socks I wear but my feet do get a little hot. Not as hot as other socks I've worn. These socks with haix boots definitely keep feet comfortable and can stay in my boots all day.
From:
Matt Bixler
On:
7 Mar 2020
Best Combo
I love the knee socks combined with my Haix boots. My feet never sweat and the socks always stay up.
From:
Alex V C
On:
2 Sep 2019
All Day Comfort
To give these socks a higher and perfect score I have to wear them in. I recently purchased 2 pairs for work but have yet to wash and wear them continuously. On wearing them for the first time I did notice that they were much better than the cotton socks I wear with my work boots. My job can be an 8 hour or 10 hour shift and these socks were the best bet when I wore them after receiving them.

They may seem pricey but Im sure they will last a good while. If they had an EMS themed Sponge Bob character on them I would've given these socks a perfect 100!
From:
Frank
On:
18 May 2018
Best socks ever
I wear these socks every day, and have for years. On my feet a lot, and they make my legs feel great.
From:
Brad Prince
On:
19 Feb 2017
Great wool socks
These socks wash and wear well. Size is spot on and they stay up on your leg all. There is some mild compression to them that makes your legs stay good all day long. I purchased size Medium for my size 8 men's foot.
From:
Admin
On:
21 Feb 2017
Hi Brad,


Thank you for taking the time to give us feedback on our knee socks. We find that wool blend socks work the best with our boots for keeping your feet warm/cool and dry while out on the job. We hope they will continue to serve you well in the future.

From:
Free
On:
1 Dec 2016
Definitely!!!
Worth every penny, an investment, not an expense. 15 hour days 7 days a week. Coworkers half my age are aching and just won't believe such a small item can do so much. Thank you, Haix, thank you.
From:
Stephen
On:
9 Nov 2015
Awesome Socks
I got these socks for free with my latest pair of boots. They are very comfortable and keep my feet warm and dry. Even after a 24 they stay nice and dry and keep my feet very comfortable.