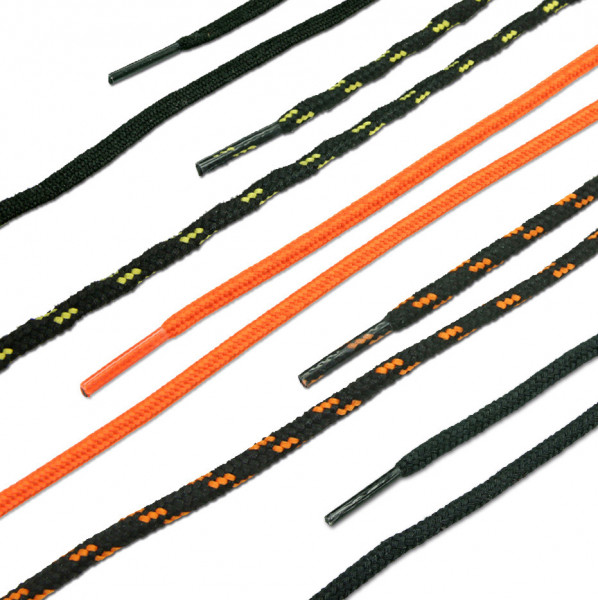 Order number:

905049.PP.210

SPECIAL NOTE: Laces in zipper boot models require 1 pair of laces for each zipper. If you need laces for both zipper boots, please order a quantity of 2 above (you will receive a total of 4 laces, 2 for each zipper). Special Fighter USAR replacement laces for boots are sold in sets of 4, 2 for each boot. Zippers sold separately.
These specially-designed, heavy duty boot and shoe laces provide style, strength and...
more
Product information "HAIX Laces"
| | |
| --- | --- |
| Color | Black |
| Product type | Accessories |
These specially-designed, heavy duty boot and shoe laces provide style, strength and durability to your HAIX® footwear. These premium replacement laces are sold in pairs. Order an extra set or two of HAIX boot laces to have on hand just in case. Order your replacement boot laces by boot model and size.
Related links to "HAIX Laces"
Read, write and discuss reviews...
more
Write a review
Customer reviews for "HAIX Laces"
From:
Warren I. Holtzman
On:
15 Apr 2023
HAIX Laces for P-7
After five (5) years my laces finally started to wear out instead of going to the shoe store and just getting any laces I wanted to get ones that were made for the boots.
From:
Lisa E Bohner
On:
15 Sep 2022
Haix Laces
I love them, have had my boots for 8 years working ems and replaced laces once.
From:
John Murphy
On:
27 Jun 2021
Boot Laces
I only trust Haix laces for my Haix boots. I've been using them for years. Excellent quality and very affordable.
From:
Gunther Haffke
On:
8 Jan 2021
This how laces should be
Finally some laces which are lasting
From:
Dennis Mueller
On:
14 Dec 2020
Laces for duty shoes.
I had to buy a new pair of laces for my Black Eagle GTX low boots. I noted the new pair was slightly different than the original laces. The new ones did not have the elasticity. I'm still satisfied with them. It was easy to set them up in the boots.
From:
Brendan
On:
19 May 2020
XR200 laces
HAIX USA is top quality
From:
Scott Mullins
On:
8 May 2019
Good
Laces are great, I'd give a 10 but I received orange laces when I believed I ordered black. Could have been my fault but definitely not for black boots.
From:
John
On:
22 Mar 2019
God Laces
Great laces. Just replaced 1 lace on each boot, since I didn't read that it was only 2 laces and my Airpower XR1 boots take 2 laces per boot. I have been wearing these boots continuously for 2 years and just now replaced the laces.
From:
the1sg
On:
4 Dec 2017
Strong laces
My laces broke after about a year of constant use. I ordered a pair from the store (discount offered). I received them quickly which is becoming more rare for businesses. So one the laces are very good and two the service is at the ready. Thank you Haix. I wear my shoes everyday at work and they are still going strong. Tread is still good which usually I have to resole after about a year. This is patrol work so I am not as hard on my boots like on motors. Cheers to you Haix.
From:
Admin
On:
4 Dec 2017
Hi!

Thank you for your feedback on our laces. We are happy to hear that you were able to get replacements quickly and that they are holding up on the job. We are also pleased that your boots are serving you well. We hope you will continue to be a loyal HAIX customer in the future. Stay safe out there!


From:
Andrew H
On:
6 Nov 2017
Good laces
I have nothing bad to say about any Haix product and these laces are no exception. I bought these as a spare for my boots in case I ever have one break(which hasn't happened in the 2.5 years that I have had them). My only aggravation is that these laces will only work in one boot. It is my fault since it clearly says this below the order button but I missed it. I would recommend these high quality laces to anyone looking for a replacement.
From:
Admin
On:
6 Nov 2017
Hi Andrew,

We appreciate your feedback on our laces. We are pleased that these have worked as good replacements for your original ones. We apologize that you thought the laces could be used for multiple boots, but we make each of our laces for a specific boot to serve a specific purpose. Thank you for your recommendation and for being such a loyal HAIX customer.


From:
Reginald
On:
1 Apr 2017
Black Eagle Boot Laces
The laces are great. They are thicker than the ones that came with the boots so you have to make a small adjustment to the loops in the center.
From:
Admin
On:
3 Apr 2017
Hi Reginald,

We appreciate you taking the time to give us feedback on our laces. We are glad that you are happy with the thicker laces and that the small adjustment worked out well for you. We hope the boots and laces continue to serve you well in the future.



From:
Gregory McVey
On:
14 Mar 2017
Black Eagle Athletic 11 Low Laces
The laces and hardware are an exact match to the laces on the Black Eagle Athletic 11 Low. Easy to replace, however a little pricey for a pair of laces.
From:
FRANK VANDER HORST
On:
2 Jan 2017
LACES
The laces are great. The instructions/pictures describing how to install them were really poor.....so small I could not even make them out with a magnifying glass.
From:
Admin
On:
3 Jan 2017
Thank you for taking the time to evaluate our laces. We are sorry to hear that you found the instructions/pictures were not to your satisfaction. We are always looking for new and better ways to make our products more user friendly . We will certainly take your comments into consideration.