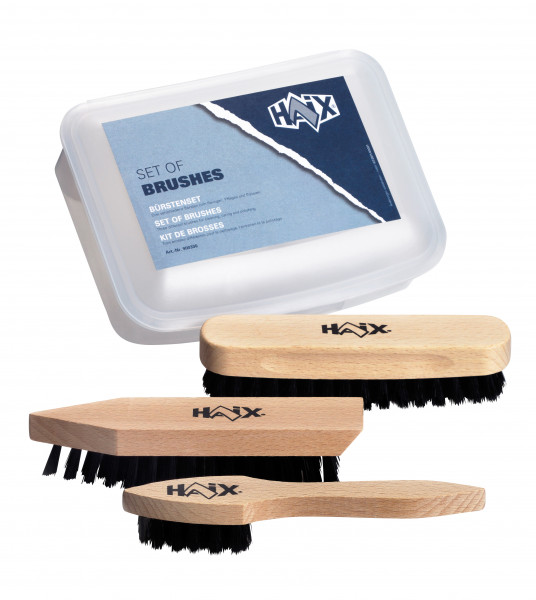 Proper cleaning and polishing will extend the life of your boots. Use these soft shoe cleaning...
more
Product information "HAIX Set of Brushes"
| | |
| --- | --- |
| Color | Brown |
| Product type | Accessories |
Proper cleaning and polishing will extend the life of your boots. Use these soft shoe cleaning brushes (3 different boot cleaning brushes included) and warm water and mild dish soap to gently scrub clean the boot's surface and crevices, then let air dry.
Follow that with our HAIX® silicone polish once or twice a month to condition the leather and preserve its Sun-Reflect elements and breathability.
Includes three different leather boot brushes for cleaning, applying polish, and buffing in an attractive carrying case.
If you'd like to know how to use this shoe cleaning brush set, watch our easy step-by-step instructional video on the "How to Polish Your HAIX® Boots" above.
Related links to "HAIX Set of Brushes"
Read, write and discuss reviews...
more
Write a review
Customer reviews for "HAIX Set of Brushes"
From:
George D Gaylin
On:
24 Feb 2021
Boot brushes
Best style of boot brushes I've ever used.
From:
Scot Rickert
On:
12 Feb 2020
Great Brushes
These are high quality brushes that work very well with any decent quality boots. They help keep your boots duty ready easily and conveniently. They are small and light enough to carry with you and come in a nice plastic box for easy storage. My only concern is how long the wood will last but only time will tell.
From:
Robert
On:
7 Jan 2020
Best brushes I've ever had
Spend a lot of time cleaning and caring for all types of boots in past. These are hands down that complete set needed to care for boots
From:
John
On:
15 Nov 2019
Great quality tools to take care of your Haix boots
I looked at the brush set, and read the reviews. One review caught my eye - the reviewer said he was concerned that the buildup of petroleum based wax and polish on his current brush might not be good for the silicone polish on the Haix boots. Why risk messing up the finish, sunlight protection or waterproofing on Haix boots?

I've been very pleased with the brush set. It's easy to remove mud (and whatever else I tromp through in EMS) and keep my Haix boots looking and performing like new.

I use the Haix silicone polish as well! Good stuff.
From:
Andrew
On:
6 Nov 2017
Worth the money
This set of brushes are worth the money to take care of your boots. The brushes work well to remove any stuck dirt to prepare them for polishing. The polish brush works well to work the polish into tough areas and into the seams. The buffing brush works very well at buffing the boots to a nice shine. When I first grabbed this brush, I thought that it was a little stiff and wouldn't do as good of a job as a softer brush but I was wrong. Overall, this kit is perfect for maintaining a shine of your Haix boots.
From:
Admin
On:
6 Nov 2017
Hi Andrew,

Thank you for your review of HAIX brushes. We are happy that they are working out so well for you in cleaning and maintaining your boots and that you have found each of the different brushes useful for removing dirt, polishing and buffing your HAIX boots. We hope they continue to serve you well in the future. We appreciate your loyalty to the HAIX brand.



From:
Gene
On:
22 Jul 2016
Must have
These brushes help you brush off the dirt and grime. There is also a brush that brings the Polish to a A#1 shine.