The job is dangerous – your footwear should keep you safe. HAIX boots are designed with the toughest materials and innovative safety features to make sure you make it home each day.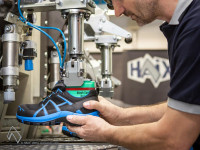 Clever minds are working on innovations for more safety and comfort at HAIX®
​
Literally translated, innovation means "reform" or "change". Producing a shoe in a new color is not an innovation. Rather, it is about further developing a product so that it offers the user real added value. With innovative features, HAIX ensures that shoes are not only safe but also comfortable.