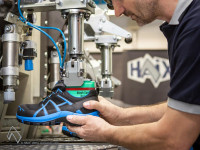 Clever minds are working on innovations for more safety and comfort at HAIX®
​
Literally translated, innovation means "reform" or "change". Producing a shoe in a new color is not an innovation. Rather, it is about further developing a product so that it offers the user real added value. With innovative features, HAIX ensures that shoes are not only safe but also comfortable.
AGO stands for "Another Great Opportunity" – a great chance. That was probably his first thought, when the Italian, Francesco Rampichini, discovered a new adhesive in 1911. With AGO adhesive, leather could be glued to leather for the first time, which revolutionized shoe manufacturing. Of course, Rampichini's adhesive has been further developed over the decades and is now a high-tech product that is also used at HAIX's headquarters in Bavaria, Germany.