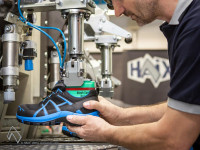 Clever minds are working on innovations for more safety and comfort at HAIX®
​
Literally translated, innovation means "reform" or "change". Producing a shoe in a new color is not an innovation. Rather, it is about further developing a product so that it offers the user real added value. With innovative features, HAIX ensures that shoes are not only safe but also comfortable.
Safety, Family, Integrity, Quality and Positivity… these are the core values at the heart of North American Training Solutions (NATS). These values are why HAIX® is proud of its partnership with the world's largest team of certified, expert instructors who provide superior tree industry related training and education. NATS specializes in practical training, educational seminars and certification for arborists and other high angle industries.