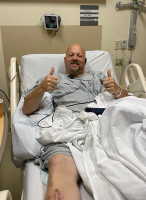 Officer Carl Farrington's doctor says he's lucky to still have his foot. 

In August of 2020, the officer from Lawrence, Massachusetts says he was sent to an apartment building for a report of a break in. That's when one of the suspects fled and hit him with a car. Farrington sustained serious injuries during the attack, including a brain bleed and broken bones. He says he also almost lost his foot, but it was saved by his HAIX Airpower XR1.
The job is dangerous – your footwear should keep you safe. HAIX boots are designed with the toughest materials and innovative safety features to make sure you make it home each day.