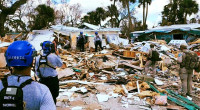 As Hurricane Ian was approaching Florida's west coast, Ohio-Task Force 1 was ready and waiting.

Considered the deadliest hurricane to hit Florida since 1935, Hurricane Ian made landfall on September 28, 2022. Search and Rescue teams from around the country were deployed to the area, and OH-TF1 was among the first to arrive.

On Monday, April 18, an emergency call was sent out for two canoers in central Kentucky who didn't return before dark as they said they would. After hours of teamwork, multiple agencies searched for the duo and found them the next morning, approximately six miles from where they had intended to return.