Slipping around in your boots, developing blisters and banging into the toe box is unmistakably miserable for everyone. For military, logging and forestry personnel who regularly traverse up and down rugged terrain, it's also downright dangerous.

HAIX® North America's innovative 2-zone lacing system for work boots locks between the lower and upper boot sections—delivering ultimate surefooted comfort and control.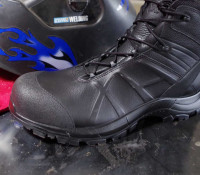 As a worker in the field, anticipated and unanticipated dangerous situations can arise that will the safety of your feet and toes. Composite toe work boots contain nonmetallic toe caps, making them particularly lightweight and comfortable to wear. The composite toe boots we offer at HAIX® are designed specifically to protect your toes from getting pierced or crushed by sharp or heavy objects.