3400432.M.4
Black Eagle Tactical 2.0 GTX Mid Side Zip, Factory Second
Black Eagle Tactical 2.0 GTX Mid Side Zip, Factory Second
Unisex model
Protect your community. Don't miss a step with Black Eagle Tactical 2.0.
Extended Wear Program
Free Return Shipping
HAIX Promise of Quality
Always Exceptional Service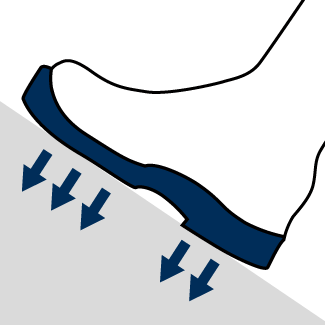 SECURE FOOTING
Our propriety rubber sole and rugged tread keep you on your toes in all types of weather and on every surface—reducing the potential for slips and falls in bad conditions and on difficult terrain.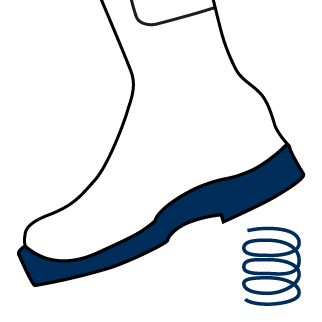 SHOCK ABSORPTION
Extra cushioning in the sole reduces foot and leg fatigue while the energy return puts an additional spring in your step. Our high-density midsole won't have you feeling every rock and stone, either.
DRY COMFORT
A waterproof yet breathable GORE-TEX liner guarantees that your feet will stay dry and comfortable no matter how hot the day or how unfavorable the weather conditions.
AT THE READY
Enjoy the quick convenience of the side zipper on the Black Eagle Tactical 2.0 GTX Mid Side Zip. Get a more personalized fit by adjusting the lacing, fix it and then forget it. Enjoy that fit all day, every day. Slip on, zip up, and go.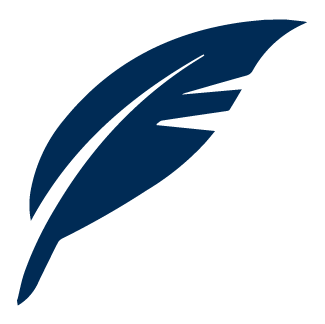 LIGHTWEIGHT CONSTRUCTION
The lighter weight of our Black Eagle Tactical boots reduces foot and leg fatigue, even when on your feet all day.
ATHLETIC SHOE FEEL
Running shoe technology is built into the Black Eagle to create a duty boot that is lightweight and flexible.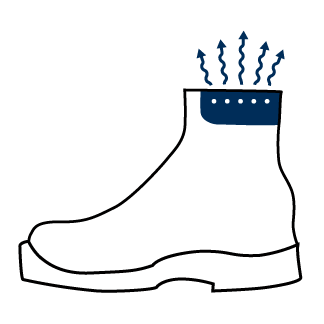 CLIMATE SYSTEM
Special foam between the inner lining and leather outer absorb moisture. With every step moist air is released at the top of the boot and fresh air is taken in to keep your feet dry and comfortable.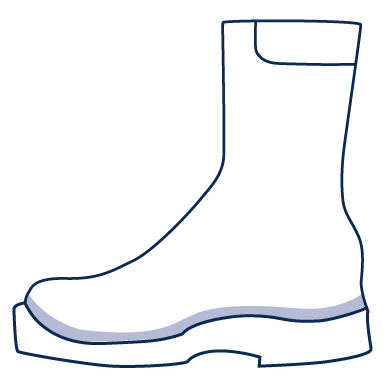 REPLACEABLE INSOLES
The micro-fiber design of our insoles is lightweight, breathable and machine washable. Just replace once in a while to keep your boots fresh and comfortable.
Sun Reflect Leather

Climate system

Washable & Exchangeable Insole

Built In shock absorption

Anti slip sole

Lightweight

Side Zipper

Lace Pocket

Upper material:
Leather/textile
Boot height in inches:
6 inches
Inner liner:
GORE-TEX® Extended
Fastener:
Lace & Side Zipper
Product type:
Factory seconds
Primary use:
Law enforcement
Conductivity:
Anti-static
The Black Eagle® Tactical line of boots are either of all leather or mostly leather with some textile. All leather is sourced from Europe and is thicker and more durable than most leathers you see in boots today. The Tactical line also has a waterproof inner liner. Either GORETEX® or CROSSTECH®. The Black Eagle® Athletic line has uppers constructed entirely of microfiber textile and has no waterproof inner liner.
Yes the side zipper of the Black Eagle Tactical 2.0 GTX Mid Side Zip allows the individual user to adjust the fit to their own personal needs, offering more ankle support as needed, or possibly offering a looser fit across the forefoot for wider feet. Boots should be adjusted to your preference when they are received, then just zip in or out from then on. A second adjustment to the lacing may be needed after the boots have gone through their initial break in period.
The Black Eagle Tactical 2.0 GTX Mid Side Zip runs similar in size to your athletic shoe size, but because of it's streamlined design, they do run on the narrow side. Black Eagle Tactical 2.0 GTX Mid Side Zip comes in medium and wide.
Yes you can buy replacement parts for the Black Eagle Tactical 2.0 GTX Mid Side Zip such as insoles and laces. You can find these items on our website on the
accessories page
. If you are looking to retread or refurbish your Black Eagle Tactical 2.0 GTX Mid Side Zip boots, check out the
HAIX Extended Wear program
.
The Black Eagle Tactical 2.0 GTX Mid Side Zip is eligible for the Black Eagle® 2 year warranty for durability. Purchasers can opt to add on one additional year to the HAIX® 1 year warranty by
signing up
. Certain exclusions apply, see webpage for details.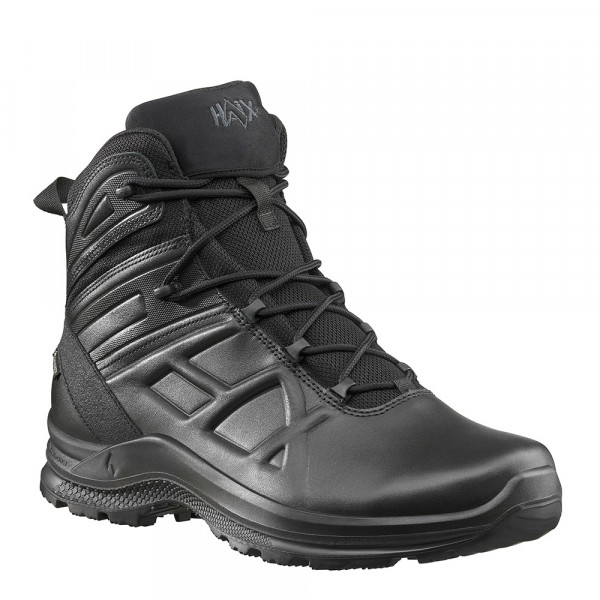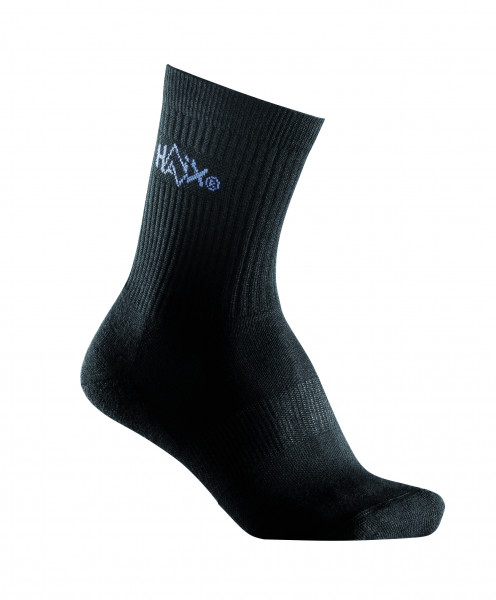 Functional Socks
$11.50
Insoles
$11.00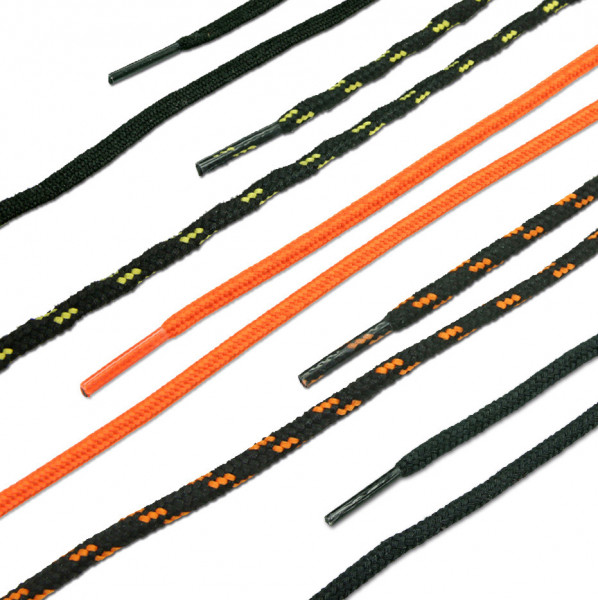 Laces
$6.00
Shoe Polish Black
$10.00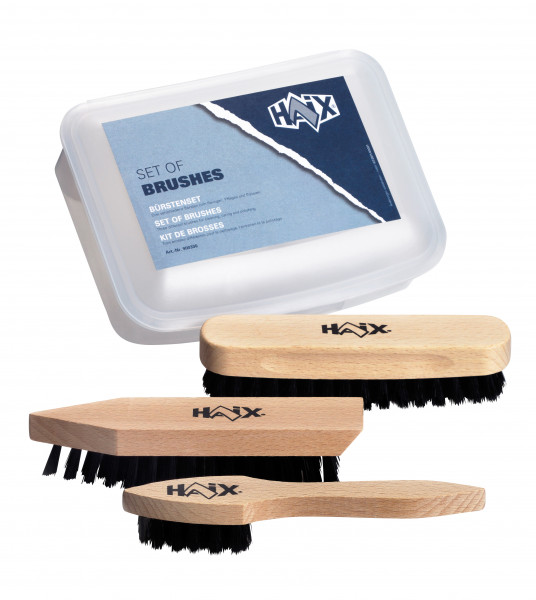 Set of Brushes
$16.00